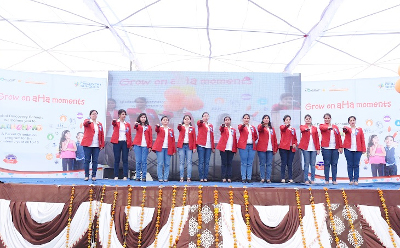 Global Discovery Schools has borrowed a page from Northern California's Rocketship Schools about their philosophy on how to mentor terrific teachers who deliver academics via a dynamic , engaging and curiosity oriented pedagogy , that encourages the child to learn more , discover more , dream more , live more .
GDS believes that like professionals in any field, a good teacher is one who emerges after a long and arduous process of screening, selection, training and motivation.
GDS hires the best teachers. They are stringently selected through a gruelling mix of interviews, tests and in-class teaching trials. Personality, presentation skills, energy level, compassion and motivation to work with children are considered at par with subject matter expertise throughout the selection process.
GDS then trains these talented teachers rigorously. This involves lectures online / offline training modules, domain expert network and examinations along with  an in-class tutorial sessions before school commences.
GDS actively monitors our teachers performance, and sends them timely feedback from school administrators, colleagues and most importantly, parents. Teachers are expected to take this feedback very seriously, act upon it, and show measurable improvement within a finite period of time.
An active rewards and recognition mechanism, tightly tied to teacher performance makes sure that a teaching meritocracy is constantly maintained across GDS. This ensures that the best teachers who have made a noticeable effort for the children in their care are always recognized and appreciated.
GDS makes sure that on-going professional development opportunities are a plenty. This is done in-house as well as in concert with external agencies.
GDS ensures that by providing a dynamic environment of growth and learning the teachers consider us as a long term career destination which fosters and hones their capabilities as educators thriving on a wide horizon of possibilities across the organization (within GDS schools as well as GDS corporate) and across the multiple geographies that GDS operates in.